Veterinary Recruitment – For Companies
At VN Recruitment we are dedicated to making the entire recruitment process as easy and stress-free as possible for you. We pride ourselves on providing our clients with a friendly, down-to-earth, cost effective and efficient service.
As we specialise purely within the veterinary industry, your vacancy is in safe hands with us and you can always rely on our discretion when recruiting for confidential roles. We know the market inside out over many years' combined experience, and our 360 degree consultants can help you source high calibre candidates for your team. Our fully GDPR-compliant database has been carefully built over several years and keeps us in touch with the best candidates in the market, as well as having access to sourcing new candidates through a variety of industry-specific and market-leading job boards.
Rest assured that any candidates we put forward for your role will have been carefully screened in relation to your requirements to ensure their suitability, and their formatted CV and up-to-date clinical skills matrix will be sent to you with the candidate's full consent.
Our aim is for you to enjoy the working relationship with VN Recruitment, and the better we understand your practice and expectations of your new candidate, the more quickly we will be able to find you a fantastic new team member to join you.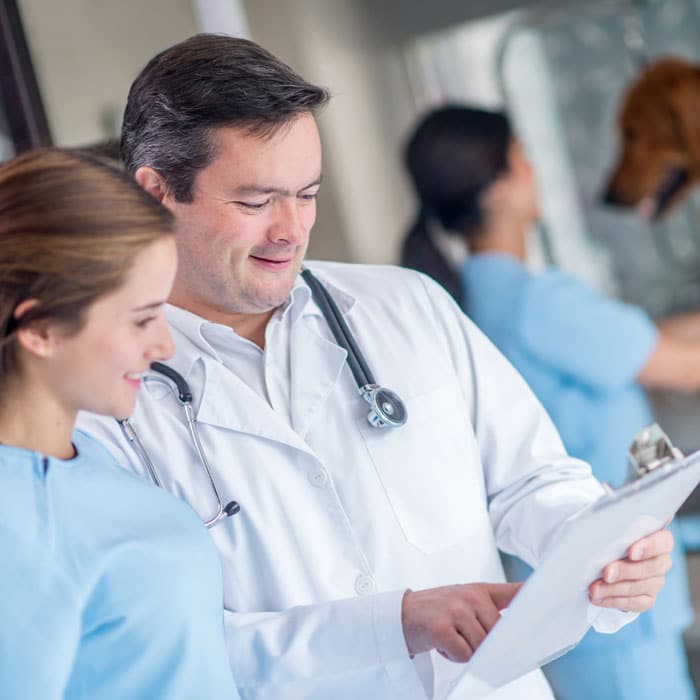 Veterinary Recruitment – For Candidates
Whether you're a Vet, RVN, VCA, Receptionist or Practice Manager, we offer our candidates a wide range of veterinary career opportunities. We have access to hundreds of live vacancies throughout the UK – from large, industry-leading veterinary groups to family-owned, independent surgeries and charity practices – so whatever your preference, be it first-opinion or referral, we can find the perfect role for you.
We make the application process as simple as possible for you from the start, and pride ourselves on truly getting to know our candidates and what you are looking for in your new role to enable us to help you as best we can. We guarantee a friendly, professional service and can promise you'll feel completely at ease with us – we understand that moving jobs can seem to be a daunting prospect for a number of reasons, but you can always rely on our utmost discretion and have confidence that we have your best interests at heart.
If you are looking for a new permanent challenge, additional locum dates, or simply wanting to keep in touch for the future, we would love to hear from you.
By registering with us we can keep you up to date with relevant new roles tailored to you, as well as interesting industry news and opportunities to come and chat with us in person at various congresses throughout the year.
To begin your search, you can contact us directly, or simply tell us whether you're a Veterinary Nurse or a Veterinary Surgeon and away you go!